Origins
Advance Australia Fair was composed by Glasgow-born Peter Dodds McCormick (1834-1916), who used the pen-name "Amicus", a Latin word meaning "friend". McCormick arrived in Australia in 1855, having completed an apprenticeship in joinery. He soon became active in the musical life and the Presbyterian Church in Sydney and worked a great deal with children choirs. McCormick was employed for most of his life by the Education Department. He was one of the early headmasters of St Marys Central School, which had been was started by Mary Putland, the daughter of William Bligh. He was headmaster of Five Dock Public School when he wrote "Advance Australia Fair" in 1866.
The first public performance of the song is thought to have been given in Sydney on November 30th (St Andrew's Day), 1878 at the St Andrew's Day concert of the Highland Society. The singer was a Mr Andrew Fairfax. The song was then published by W.J. Paling and Company in 1879, with the following notation: "Respectfully dedicated to the sons and daughters of Australia, played as a march by the military bands and sung with great success [at] patriotic celebrations". It was also sung by a choir of 10,000 at the inauguration of the Commonwealth in 1901, but with a few amendments by McCormick including the addition of the words "our youthful Commonwealth".
In 1907, the Commonwealth Government awarded McCormick £100 for his composition. After his retirement he continued his involvement with choirs, on occasion conducting massed choirs of many thousands of singers. McCormick died in 1916. His obituary in The Sydney Morning Herald stated prophetically: "Mr. McCormick established a reputation with the patriotic song, 'Advance Australia Fair', which […] has come to be recognised as something in the nature of an Australian National Anthem."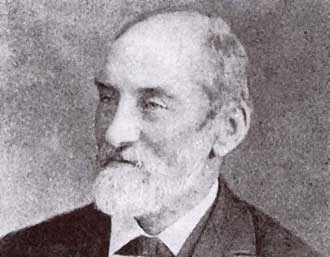 Its selection
Australians are not renowned for rushing into major decisions – change is usually a slow and considered process. The journey towards choosing our own national anthem was no exception. The move to replace God Save the Queen with an anthem unique to Australia began as early as the 1820s. Over the decades, public opinion has been constantly canvassed and numerous competitions held to find a suitable song. Peter Dodds McCormick's Advance Australia Fair was officially declared Australia's national anthem by the Governor-General on 19th April 1984, close to 160 years after the first alternative anthems were put forward. John Dunmore Lang, who published an Australian Anthem and an Australian Hymn in 1826, was an early advocate of a distinctively Australian anthem. South Australian Carl Linger wrote Song of Australia in 1860, which was suggested to the (then) Prime Minister in 1929 as a possible national anthem.
Linger's composition remained a favourite with Australians and was on the shortlist of 'possibles' 117 years later when Australians voted for an anthem at a national poll. The Australian Broadcasting Commission held two competitions in 1943 and 1945, and the 1951 Commonwealth Jubilee celebrations competition was won by Henry Krips with This Land of Mine. The 1956 Olympic Games, staged in Melbourne, sparked a fresh and passionate debate about the need for a truly Australian anthem.
The Australian Labor Party policy for the 1972 elections included finding an alternative to God Save the Queen. The ALP won office in that election, and the Whitlam government (1972-75) announced in the Prime Minister's 1973 Australia Day address that a competition would be held under the auspices of the Australia Council for the Arts to find a new Australian national anthem. Although a large number of submissions were received (2,500 lyric and 1,400 music entries), none were considered acceptable.
In 1974 a public opinion poll, which sampled an estimated 60,000 people, offered three songs for choice: Advance Australia Fair; Banjo Paterson's Waltzing Matilda; and Linger's Song of Australia. Advance Australia Fair polled 51.4 per cent, prompting the (then) Prime Minister, Gough Whitlam, to announce that it would become our national anthem. After some intense political debate, a national poll was conducted in 1977 with over seven million people issued with ballot papers. The results were: Advance Australia Fair 43.2 per cent, Waltzing Matilda 28.3 per cent, God Save the Queen 18.7 per cent and Song of Australia 9.6 per cent.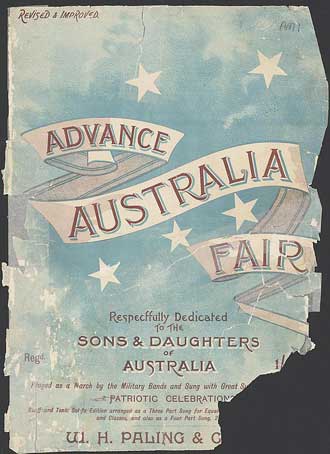 In April 1984 the Governor-General issued a proclamation declaring that God Save the Queen was designated the Royal Anthem, to be played at public engagements in Australia attended by the Queen or members of the Royal family. God Save The Queen, which was composed by Henry Carey and first sung by him in 1740, is the National Anthem of Britain. As Australia is a Commonwealth country, with the Queen as its Monarch, God Save The Queen was also Australia's original National Anthem until it was replaced, being relegated to the role of Royal Anthem.
At the same time, Advance Australia Fair was finally declared to be the official national anthem. Some of the original words of the song have been changed for the official version. 'Australia's sons let us rejoice' was the original first line; this has been replaced with 'Australians all let us rejoice'. In the third verse of the original song, two lines were changed-'To make our youthful Commonwealth' became 'To make this Commonwealth of ours' and 'For loyal sons beyond the seas' became 'For those who've come across the seas'.
Waltzing Matilda – the 'unofficial' national anthem
Waltzing Matilda is recognised as Australia's 'unofficial' national anthem. It is one of nation's most loved songs and Banjo Paterson's lyrics certainly strike a chord with many Australians. Written in 1895, Paterson's song speaks the language of everyday Australians. Its informality, simplicity and upbeat melody – the very qualities that gave it such broad appeal – are also the reasons why many thought it inappropriate as a national anthem. After all, the critics argue, how can our national anthem celebrate the theft of a sheep? It seems many Australians agreed with the critics and let their minds rule their hearts when they overwhelmingly endorsed Advance Australia Fair as the national anthem.