Beyond Canberra: Single Day Destinations | New South Wales | Interstate
Single Day Destinations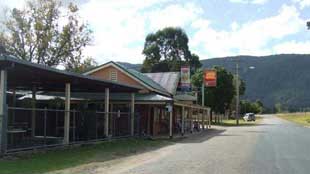 Areluen
Arealuen is one of the most famous goldmining boom towns in NSW. Today it is little more than a few buildings in a beautiful valley noted for its orchards (especially peaches) and picturesque valley location, but it is well worth the drive, if only to enjoy the mountain drive and picturesque valley which encircles this out-of-the-way village.
Where is it?: 114 km south east via Kings Hwy





Bungendore
Bungendore (36 km east): a small town frozen somewhat in time, Bungendore offers numerous specialty shops and old stone, brick and timber heritage buildings, providing an evocative glimpse of 19th century life in rural Australia. It has become a major tourist centre in recent years, popular with visitors from Canberra. Many of the town's important buildings were constructed in the 1840s.
Where is it?: 39 km east via Macs Reef Road or Kings Hwy.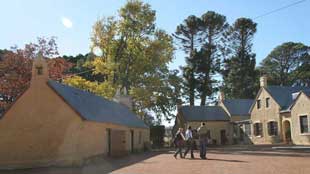 Lanyon Homestead
Lanyon Homestead is found on an historic sheep station on Canberra's southern outskirts, about 30km south. The centrepiece of the complex is the beautifully restored early stone cottage built by convicts in 1859, occupied until 1974. This National Trust homestead documents station life from early convict days before Canberra existed and houses the Nolan Gallery.
Where is it?: 29 km south via Yamba Drive.
Mongolo Gorge
Molonglo Gorge has been a popular destination of picnickers for many years and is well equipped with modern conveniences and an adventure playground for the young ones. Situated on a picturesque section of the Molonglo River at the western end of Molonglo Gorge a scenic, the reserve has a scenic walking trail, which winds its way from the gorge to the Blue Tiles picnic area.
Where is it?: 32 km east via Sutton Road and Parkes Way.
Queanbeyan
Queanbeyan is a regional centre of 36,000 people which sits on the border of NSW and ACT. It services a strong agricultural and pastoral region. Following the founding of Canberra, Queanbeyan has become an integral part of the capital city's economy. A two-hour circuit walk to the south of Queanbeyan leads to London Bridge, a natural rock arch carved in limestone by the passage of Burra Creek.
Where is it?: 15 km south east.
Braidwood
A popular day trip destination for the people of Canberra, Braidwood is an historic goldmining town, and a service town for the region. Of the many historic towns in NSW, Braidwood was probably least changed by the 20th century. A proud local boast is that a resident from 100 years ago could walk down Wallace Street today and recognise almost every building along the main street.
Where is it?: 88 km east via Kings Highway.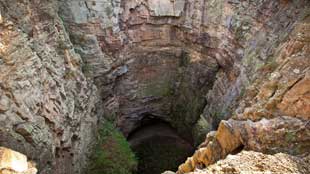 Deua National Park
Together with Wadbilliga Park which adjoins it, is one of the largest areas of natural land left in this part of the state. The Park consists of wet and dry sclerophyll forests and patches of sub-tropical rainforest lining spectacular mountain ranges dominated by Big Badja (1362 m) and Mother Woila Mountain (1104 m). The Big Hole, Marble Arch and Wyanbene Caves are all found along the western boundary of the park.
Where is it?: 73 km south east via kings Hwy.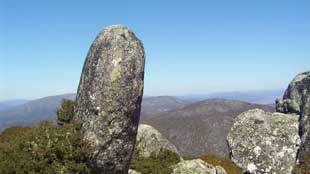 Namadji National Park
Namadgi National Park is located in the southwestern part of the Australian Capital Territory, bordering Kosciuszko National Park in New South Wales. Snow normally falls on the Bimberi and Brindabella Ranges during winter. The highest mountain is Bimberi Peak (1911 m) which is the highest peak in the ACT. Namadgi has a rich heritage of human history.
Where is it?: 43 km west via Brindabella Rd.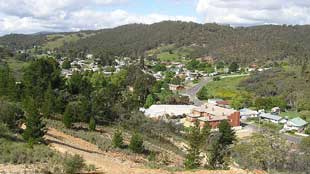 Captains Flat
Captains Flat is a small town nestled into a valley, the hills around scoured of trees by constant mining. Captains Flat was birthed as a result of mining for gold, silver, lead, zinc, copper and iron pyrites in the hills surrounding the upper reaches of the Molonglo River. Of interest to visitors is the Lake George Mine site, heritage buildings including a miner's cottage, miner's memorial and museum.
Where is it?: 56 km south east via Captains Flat Road.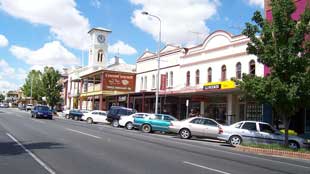 Yass
Yass is a regional centre in the Southern Tablelands of New South Wales. Yass has an impressive and historic main street, with well-preserved 19th century verandah post pubs (mostly converted to other uses). It is popular with tourists, some from Canberra and others taking a break from the Hume Highway.
Where is it?: 58 km north via Barton Hwy.
Brindabella National Park
Brindabella National Park, encompassing the Brindabella Range, is located on the border between New South Wales and the Australian Capital Territory. The mountains rise to the west of Canberra and include the Namadgi National Park, Bimberi Nature Reserve and Brindabella National Park. The Brindabellas form an important part of the city's landscape.
Where is it?: 40 km south west via Kings Hwy.




Deep Space Commu. Complex
Clustered in the rolling valleys and farmland surrounded by grazing sheep and cattle are the giant white antenna dishes of the Canberra Deep Space Communication Complex. Part of NASA's Deep Space Network, the Complex is a functional deep space observatory with a visitor centre. The Centre offers visitors the chance to learn about many things, including the role that Australia plays in the exploration of space.
Where is it?: 40 km south west via Tidbinbilla Rd.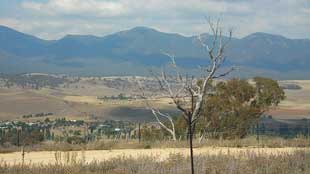 Michelago
Michelago is one of the higher localities in New South Wales. It was founded in the 1820s in the Monaro region, on the main route from Sydney to the Snowy Mountains. Michelago is 63 km north of Cooma, the eastern gateway to the Snowy Mountains. Michelago is situated in a valley between the Tinderry and Clear Ranges. A road from Michelago leads to Captains Flat.
Where is it?: 53 km south via Monaro Hwy.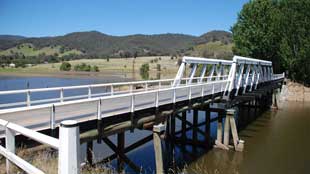 Wee Jasper
Wee Jasper is a small picturesque village of about 100 people in a pretty valley at the foot of the Brindabella Ranges, on the backwaters of Burrinjuck Dam. Wee Jasper has five nature reserves available for camping and recreation. Walking, canoeing, swimming, fishing and caving can all be enjoyed. Trout fishing is best from October to February.
Where is it?: 109 km north west via Barton Hwy and Wee Jasper Rd.
Burrinjuck Dam
Burrinjuck Dam encompasses 5500 ha and 645 km of shoreline and contains one million megalitres of water (2.5 times that of Sydney Harbour). It was the first major dam built for irrigation in NSW, supplying water to the Murrumbidgee Irrigation Scheme.
Where is it?: 115 km north west via Yass (Barton Hwy).