Swan Basin, Macquarie Harbour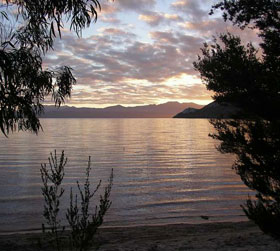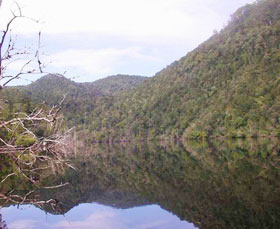 The eerie stillness of the Gordon River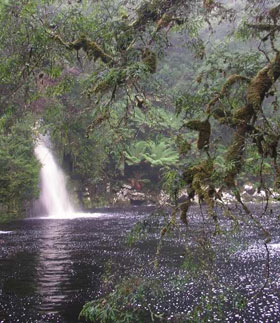 St Johns Falls on the Gordon River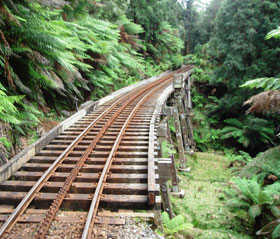 West Coast Wilderness Railway track

West Coast Wilderness Railway crossing the King River gorge on its way to Macquarie Harbour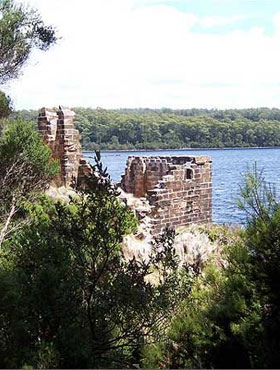 Sarah Island ruins
Macquarie Harbour is the second-largest natural harbour in Australia after Port Phillip Bay in Victoria; it is six times the size of Sydney Harbour. However, the real glory of Macquarie Harbour and the town of Strahan on its shores is not the harbour's size but its setting; the surrounding wilderness and the Gordon River that flows through it are other-worldly, and in recent years have attracted local and international visitors to what is one of the last easily-accessible pristine wilderness areas left in the world.

Macquarie Harbour is fed by many rivers, not the least is the Gordon River. Appearing to stand silent within Tasmania's pristine World Heritage Area, this majestic river winds its way from deep in the South-West to the mouth of Macquarie Harbour. The Gordon which would have been damned many years ago had not the Federal Government intervened and saved it in 1984. The Franklin River flows into the Gordon.
The dense, temperate rainforest is dark, gloomy and teeming with life. It is through this wild environment that Australia's most stunningly picturesque tourist railway, the the West Coast Wilderness Railway, winds its way from Strahan to Queenstown on tracks laid down more than a century ago to carry ore from Queenstown's mines to port facilities on Macquarie Harbour. The 40km-long Ocean Beach receives waves unimpaired since they left Patagonia on the southern tip of South America. The Henty Dunes just to the north are sand, but at certain times look like snow, providing a lunar-like landscape.
Macquarie Harbour is steeped in history. It was on its southern shore that Tasmania's first penal settlement was established in 1822 on Sarah Island (Port Arthur was established in 1834, after Sarah Island was declared unsatisfactory). Mining and forestry operations based around the magnificent Huon pine, famous for its oily shipbuilding qualities, commenced in the 1880s, making Strahan, the small fishing village now the centre of activities on Macquarie Harbour, the second-busiest port in Tasmania a century ago.
How To Get There: Drive south along Lyell Highway from the north-west, or north from Hobart to Queenstown; follow the signs to Strahan.
Strahan
Set on a quiet bay at the northern end of Macquarie Harbour, Strahan is a small, picturesque frontier-style town with an abundance of character and a variety of stories to tell of the West Coast's pioneering days. From its beginnings as the location for bushmen seeking precious Huon pine, Strahan became the railway port for a rich copper mine inland. Those days are long gone, and the only reminders of the copper boom days are an impressive post office and steamship offices.
What everyone come to Strahan to see these days is Macquarie Harbour, on whose shores the town stands, and the Gordon River, which flows through ancient Tasmanian rainforests, emptying its water - browned by the oils of the huon pine - into Macquarie Harbour south of Strahan. Unlike many other Tasmanian destinations, Strahan's landscapes, waves and weather are wild and elemental - typical of the south west Tasmanian World Heritage Wilderness in which it is located.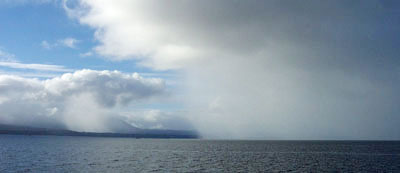 A storm blows across Macquarie Harbour
Surprisingly accessible by road, Strahan has become an eco-tourism mecca without sacrificing any of its waterfront charm. Coaches move in and out of the town each day, bringing wide-eyed visitors eager to taste the fresh lobster caught earlier that morning, take a steam train ride through the untouched forest wilderness, or cruise the ancient, mirror-like waters of the Gordon River. This cruise takes in waterfalls deep in the World Heritage listed rainforests, Tasmania's world-renowned salmon farms, and the notorious Sarah Island penal settlement ruins. Visitors who prefer to keep their feet on the ground can enjoy one the most intimate rainforest experiences possible - a stroll through pristine forests of 2,000 year-old Huon Pine.
How To Get There: Drive south along Lyell Highway from the north-west of Tasmania, or north from Hobart to Queenstown; follow the signs to Strahan.
More information about Strahan >>
Sarah Island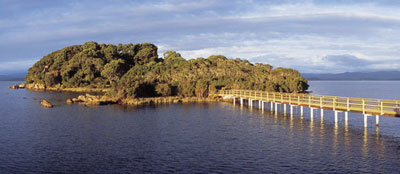 Sarah Island (or Settlement Island) is found in the far south west corner of Macquarie Harbour. This isolated island was a Penal Settlement between 1822 and 1833, established, before the more well-known Port Arthur, as a place of 'secondary' punishment, an attempt to control the uncontrollable. Over time Sarah Island has gained a reputation as a place of unspeakable horrors and a living hell, largely due to the exploits of one of the island's 'colourful' characters, Alexander Pearce, the Cannibal Convict, and a novel "For the Term of His Natural Life" written about 1860 by Marcus Clark. The novel, although based on actual events, is a fiction which set out to create Sarah Island as a living hell for its hero, Rufus Dawes.
Sarah Island is visited by cruise boats travelling Macquarie Harbour from Strahan.