The Australia For Everyone website is a publishing project of Stephen Yarrow. The Associate Editor of Australia For Everyone is Christine J Hind.
Australia For Everyone is a website about Australia with a travel and tourism focus. Our aim to provide both the resident and visitor with information about Australia as a country, and what it has to offer as a travel or holiday destination, with suggestions on how to make their journey more enjoyable and rewarding.
Most Australian travel websites promote a particular region, place, attraction or area of interest. Australia For Everyone is different, in that it is not designed to promote anything in particular, but rather to share with our readers about places we've been to, journeys we've made and things we've done in our travels around Australia. Stephen is a local, Christine a visitor from Canada who first came to Australia in 2007-8 on a year-long visit as a backpacker, so we are able to present that information from two perspectives - that of a local who knows about all the great destinations that aren't on the regular tourist tracks, and that of a visitor who wants to know what Australia has to offer within their fields of interest, and how to see as much of it as possible within a limited amount of time and on a limited budget.
Our pages contain links to many websites to provide our readers the opportunity to gather further information on a particular travel service or destination, or to book their travel arrangements online should they so wish. For this reason we invite Australian tourism and travel business operators to submit their websites for us to assess. We will then provide hyperlinks to websites we recommend. It would be appreciated if linked sites returned the favour and provided a link on their website back to us. For further information, or to submit a link, please email us.
About Stephen Yarrow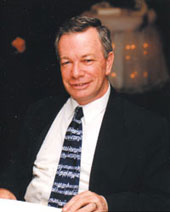 Stephen has worked freelance as a journalist and graphic artist which led him to a variety of work situations, including a 10 year stint as editor of the video trade publications, Video News and Video International, which pre-empted his move to Sydney in 1985. The past decade has included employment as manager of a printing business, during which time he developed skills in computer graphic arts and web design.
Stephen has published an number of history related books, and most recently published the CD-Rom's "Australia On CD" and "Baby Boomers On CD". Visit the Australia On CD website for more information.
Stephen was born in Leeds, England, and lived for a number of years in the Yorkshire village of Otley until 1960 when he emigrated with his family to Australia on the P&O liner Strathaird. It was the journey of a lifetime and the memory of this epic voyage will always remain. This website includes a tribute to the ship RMS Strathaird, which brought him to his country of adoption.
Stephen's family settled in Melbourne, Australia, living in the suburb of Springvale North for two years before moving to Perth, Western Australia just in time to witness the 1962 British Empire and Commonwealth Games held in November of that year. He attended Nollamara Primary School then Tuart Hill Senior High School. His first job was as a clercial assistant with the Library Board of WA, followed by 10 years with the Western Australian Museum, during which time he developed a strong interest in Australian history. This led Stephen to write three books on various aspects of Western Australian history. On his 21st birthday he met his wife-to-be, Rona, and married her four years later - almost to the day.