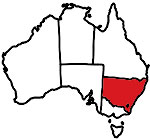 New South Wales
Sydney
Bowral: family home of cricket legend, Sir Donald Bradman - 52 Shepherd Street; 20 Glebe Street
Cootamundra: birthplace and childhood home of cricket legend, Sir Donald Bradman - 89 Adams Street
Jerrilderie: Post & Telegraph Office held up by bushranger Ned Kelly and his gang, 10 February 1879 - Powell Street
---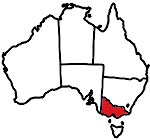 Victoria
Melbourne
7 Lansdowne Road, St Kilda, Melbourne, was the house were AC/DC stayed during 1973-75.
Ballarat: site of the Eureka Stockade gold diggers rebellion (1854) - Eureka Street
Beveridge: childhood home of bushranger, Ned Kelly - cnr Kelly & Stuart Streets
Benalla: buildings associated with bushranger Ned Kelly: Bootmaker & Saddlers shop where Kelly was captured (Sept 1877) - Arundel Street; Old Court House where Ned Kelly was tried, Arundel Street
Beechworth: buildings associated with bushranger Ned Kelly: Beechworth Gaol, where Ned's mother served a prison sentence; Old Court House where Ned Kelly was tried; Beechworth Lock-up where Ned Kelly was held
Glenrowan: site of Ann Jones' Glenrowan Inn, which was bailed up by the Kelly Gang (28 June 1880), and site of Ned Kelly's last stand - Beaconsfield Street
---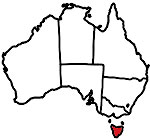 Tasmania
Kingston: Keen's Curry Powder, today a nationally recognised condiment, was first developed by Joseph Keen (1819–92) in the early 1860s at his Kingston grocery shop - Huon Road (now Huon Hwy)
Stanley: family home of Joseph Aloysius Lyons, Prime Minister of Australia, 1932-39 - 14 Alexander Street, Stanley
Taroona: Mary, Crown Princess of Denmark, nee Mary Elizabeth Donaldson, and Premier of Tasmania, David Bartlett, both attended Taroona High School - Meath Avenue
---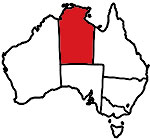 Northern Territory
Mataranka: sites associated with author Jeannie Gunn and her famous 1908 novel, "We of the Never Never" - Elsey Station; Elsey Cemetery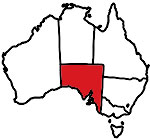 South Australia
Bordertown: family home of RLJ (Bob) Hawke, Prime Minister of Australia, 1983-91 - Hawke House, Farquhar Street, Bordertown
Penola: schoolhouse where, in 1866, Australia's first saint, Sister Mary McKillop (1842-1909), co-founded the Australian Sisters of St Joseph - Cnr Portland Street and Petticoat Lane
---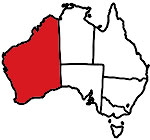 Western Australia
Abrolhos Islands: site of the shipwreck and subsequent mutiny of the Dutch trading ship, Batavia, 1629 - Morning Reef, Beacon Island; wrecksite of the Dutch trading ship, Zeewijk, 1727 - Half Moon Reef, Pelsaert Group
Dirk Hartog Island: site of early landing by Dirk Hartog, captain of Dutch trading vessel, Eendracht, who left a plate recording his visit here 25 October 1616. Dutch explorer Willem de Vlamingh replaced Hartog's plate with one of his own, 11 February 1697; John Goodman, the cook of British seafarer William Dampier's ship, Roebuck, died here in August 1699, making him the first British citizen to die and be buried on Australian soil - Cape Inscription
---
Queensland
Bundaberg: home of pioneer aviator, Bert Hinkler - Botanic Gardens, Cnr. Mount Perry Road and Young Street, Bundaberg North
Cape Keerweer: site of the first recorded landing on Australian soil by Europeans, William Janszoon, March 1606. The first Europeans known to have died and been buried on Australian soil were six Dutch sailors, who were killed by hostile Aborigines near Cape Keerweer. Their names were not recorded - Gulf of Carpentaria.
Ingham: home of a hotel drunk dry by American servicemen celebrating the Coral Sea victory during World War II, which inspired the famous Australian folk song, 'The Pub with No Beer' - Lee's Hotel
Mckinlay: Walkabout Creek Hotel, one of Australia's most famous hotels, was featured in the "Crocodile Dundee" movies.
Possession Island: where British navigator James Cook claimed possession of the east coast of Australia for the British Crown, 22 August 1770
---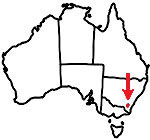 Australian Capital Territory
Canberra