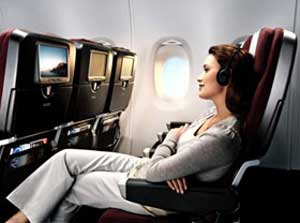 Australia has four major airlines plus a number of smaller regional carriers. The main airlines are the long-established Qantas, Jetstar, Tiger Airways and Virgin Australia. Qantas has the most extensive flight network followed by Virgin Blue and Jetstar. Tiger Airways is the new kid on the block having started service in November 2007. All four airlines have relatively young fleets.
Regional Express, also known as Rex Airlines, is Australia's main regional airline. Rex flies to around 35 regional destinations in New South Wales, Queensland, South Australia, Tasmania and Victoria.
Australian Air Travel Times
Times quoted are minimum travel times for direct flights according to carriers' timetables. Times vary from carrier to carrier. For indirect flights involving connections through other airports to complete a journey, extra time must be added. Times quoted are airport to airport flight times, and do not include land travel to and from airports.
National
Sydney - Brisbane: 1 hour 25 minutes
Sydney - Sunshine Coast: 1 hour 35 minutes
Sydney - Gold Coast: 1 hour 20 minutes
Sydney - Whitsunday Islands (Proserpine): 4 hours 40 minutes via Brisbane
Sydney - Whitsunday Islands (Hamilton Island): 2 hours 30 minutes
Sydney - Norfolk Island: 4 hours 5 minutes
Sydney - Cairns: 3 hours 10 minutes
Sydney - Darwin: 6 hours (8 hours via Brisbane)
Sydney - Perth: 5 hours 5 minutes
Sydney - Adelaide: 2 hours 10 minutes
Sydney - Melbourne: 1 hour 30 minutes
Sydney - Hobart: 1 hour 55 minutes
Sydney - Broome: 9 hours 40 minutes via Perth
Sydney - Dubbo: 1 hour 5 minutes
Darwin - Melbourne: 4 hours 40 minutes
Darwin - Alice Springs: 2 hours
Darwin - Adelaide: 3 hours 35 minutes
Darwin - Perth: 3 hours 55 minutes
Darwin - Brisbane: 3 hours 45 minutes
Hobart - Melbourne: 1 hr. 15 minutes
Melbourne - Adelaide: 1 hr. 20 minutes
Melbourne - Perth: 4 hours 10 minutes
Melbourne - Gold Coast: 2 hours 5 minutes
Melbourne - Sunshine Coast: 2 hours 15 minutes
Melbourne - Alice Springs: 2 hours 55 minutes
Perth - Broome: 2 hours 25 minutes
Perth - Darwin: 3 hours 25 minutes
Perth - Alice Springs: 2 hours 40 minutes
Perth - Adelaide: 3 hours 30 minutes
Cairns - Brisbane: 2 hours 25 minutes
Cairns - Melbourne: 3 hours 15 minutes
Townsville - Brisbane: 1 hr. 40 minutes
International:
Sydney - Auckland: 3 hours
Sydney - London: 22 hours
Sydney - Frankfurt: 22 hours
Sydney - New York: 21 hours
Sydney - Los Angeles: 13 hours 30 minutes
Sydney - Toronto: 21 hours
Sydney - Vancouver: 12 hours 30 minutes
Sydney - Honolulu: 7 hours 5 minutes
Sydney - Nadi: 3 hours 45 minutes
Sydney - Singapore: 7 hours 30 minutes
Sydney - Hong Kong: 5 hours 50 minutes
Sydney - Bangkok: 7 hours 40 minutes
Sydney - Dempasar (Bali): 7 hours 35 minutes
Sydney - Kula Lumpur: 7 hours 30 minutes
Sydney - Johannesburg: 14 hours 10 minutes
Sydney - Santiago: 17 hours 10 minutes
Perth - Johannesburg: 10 hours 20 minutes
Perth - Singapore: 5 hours 25 minutes
Perth - London: 20 hours 45 minutes
Darwin - Singapore: 4 hours 20 minutes
---